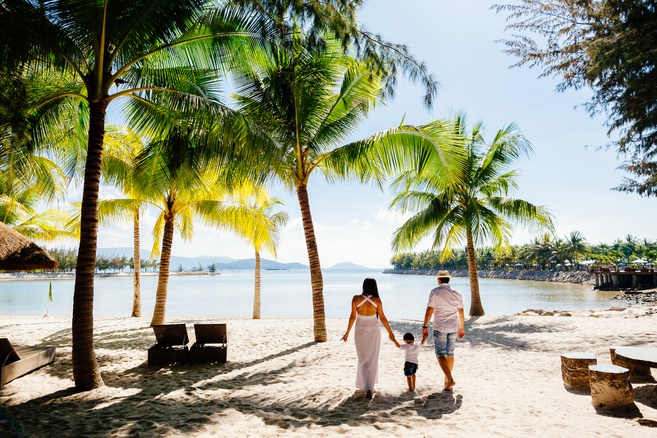 Vietnam
The Ultimate Guide to Luxury Travel in Vietnam
Vietnam is well-known for its bustling cities, expanses of unspoiled countryside and a long coastline boasting spectacular beaches and resorts – needless to say, when it comes to luxury travel, Vietnam is not to be overlooked. Whether you fancy a rejuvenating break at high-end resorts, thundering waterfalls and sprawling deltas, or an island-hopping cruise; a trip to Vietnam could be just the ticket.
Vietnam's Most Luxury Resorts
It's never been easier to get a taste of the high life. Simply check into one of the country's most luxurious resorts to find yourself enjoying the champagne lifestyle. These lodgings cater to sophisticated travelers who are after five-star service. If it's fine interiors, chic in-room amenities and glorious views that you're lusting after, look no further.
Fusion Maia Resort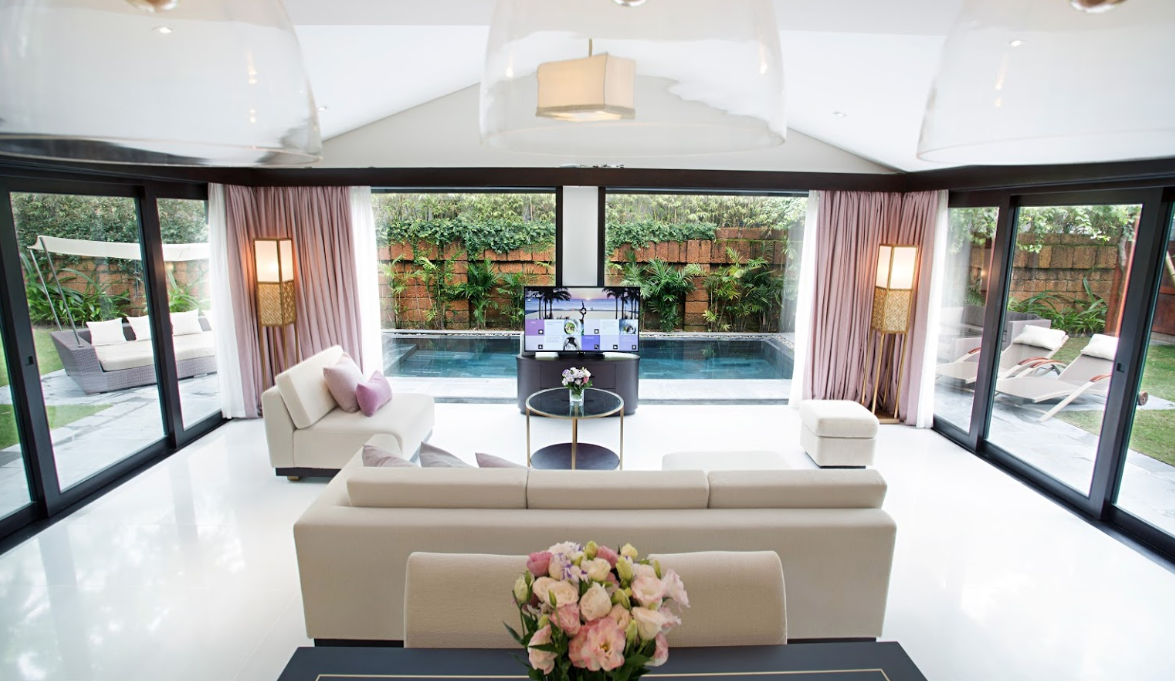 Fusion Maia Da Nang is part of Fusion Resorts, a unique brand that promotes the idea of combining travel with a healthy and hearty lifestyle. The resort is located on Da Nang's beachfront which grants stunning sea views. Ideal for couples, newlyweds and families, their elegant villas each have their own private pool and personal outdoor area. The villas are decorated in a stylish mix of dark wood furniture and white walls with some classic bamboo features. But the cherry on top is Fusion's famous all-inclusive spa service which offers each guest at least two complimentary spa treatments every day. Stay at Maia Resort and you'll be so relaxed you'll never want to leave!
Four Seasons Resort The Nam Hai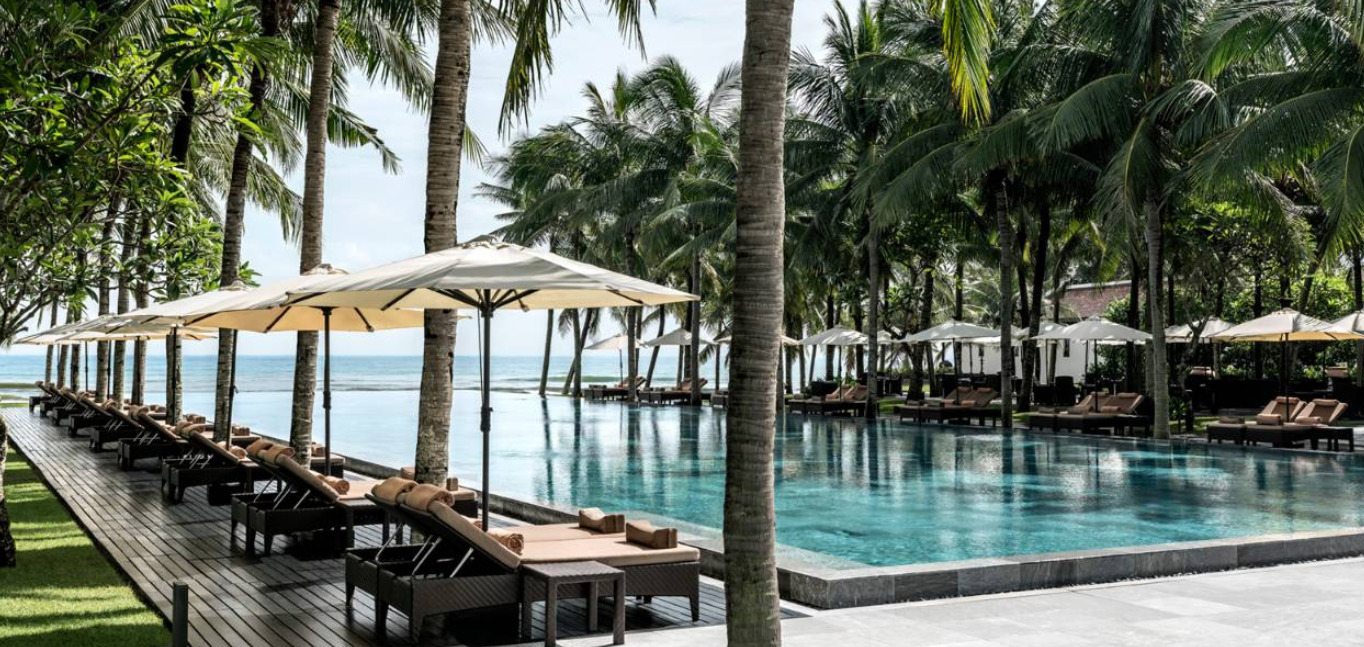 Hoi An's Four Seasons Resort The Nam Hai offers unrivaled splendor. This ultra-luxurious resort sits on the pristine sands of one of the best beaches in the world – Ha My Beach. The Nam Hai's villas are elegant and stylish with top-notch amenities and balconies offering vast ocean views. The resort is designed to give guests the ultimate experience of tranquility; thanks to a clever layout following basic Feng Shui principles, The Nam Hai blends perfectly into Hoi An's surrounding countryside. While the resort itself is reason enough to book your stay, its idyllic location cannot go unmentioned – in close approximation to three of the world's most beloved UNESCO World Heritage sites, a stay at The Nam Hai should not be missed.
Mia Nha Trang Resort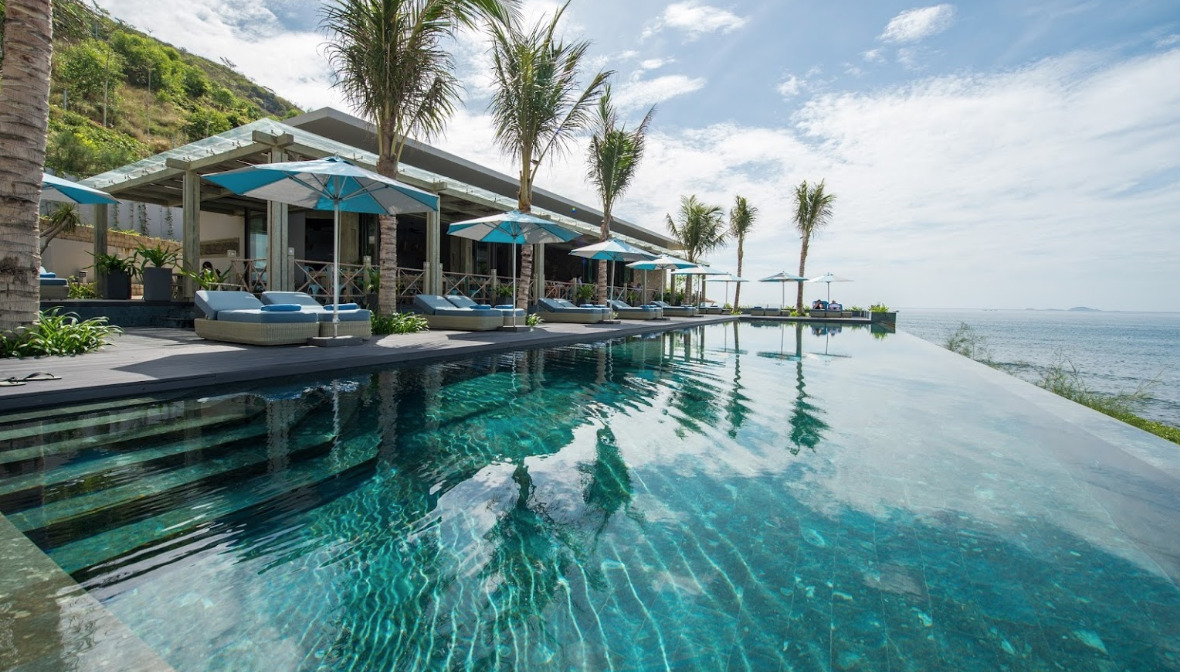 Recognized as a five-star property, Mia Nha Trang is a romantic yet family-friendly spot with a true all-inclusive plan that covers meals, drinks and all activities. A stay at Mia grants exclusive access to a private beach and romantic oceanfront dining. Mia's comfortable and dreamy villas are set along the cliffs and nestled down on the beach. The resort embodies condos, villas, suites and 5 bedroom beachfront villas – all with dazzling sea views. Exceptionally, the garden villas and condo rooms also offer private pool access. No matter where your room is, the isolated private beach is only a few steps away which will absolutely blow your mind with magnificent views of the Nha Trang sea and an array of water sports and scuba diving.
Six Senses Ninh Van Bay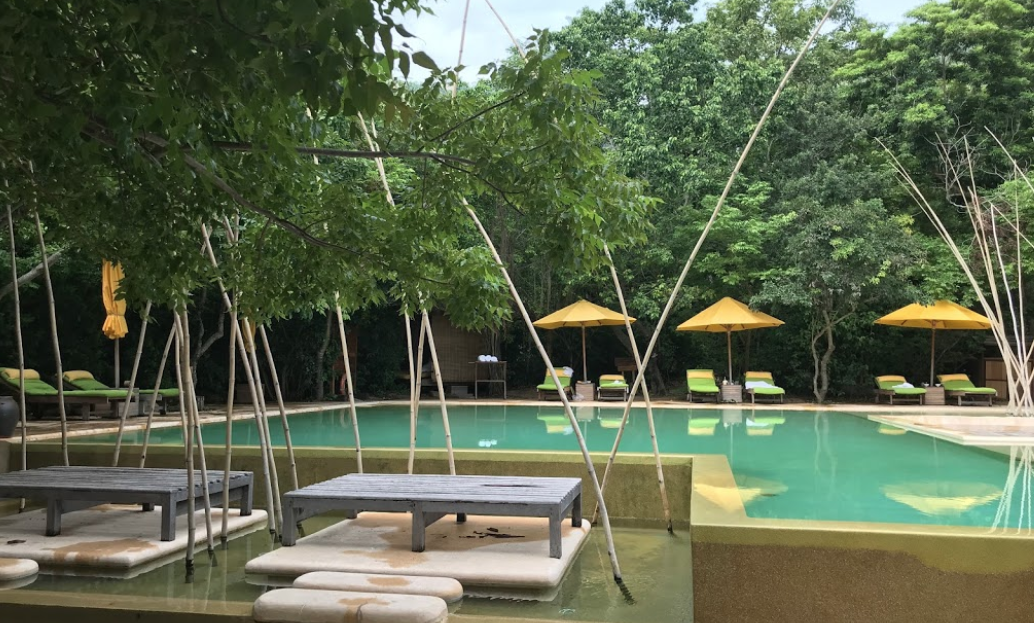 If it's white sand beaches and towering mountains you're after, Six Senses Ninh Van Bay Resort has it all. One of Vietnam's most exclusive resorts, nuzzled comfortably on a private island and surrounded by incredible rock formations, Six Senses Ninh Van Bay is accessible only by boat. Add great views of the East Sea of Vietnam to the mix and we've got a number one luxury destination on our hands. Three types of villas including standard, multiple room and specialty villas are thoughtfully designed with gentle nods towards a traditionally Vietnamese architectural style. The spacious accommodation comes with fully modern amenities, while the Resort's location gives a sense of being intimately at one with nature, making Six Senses Ninh Van Bay an ideal getaway for solo travelers, couples and families alike.
Angsana Lang Co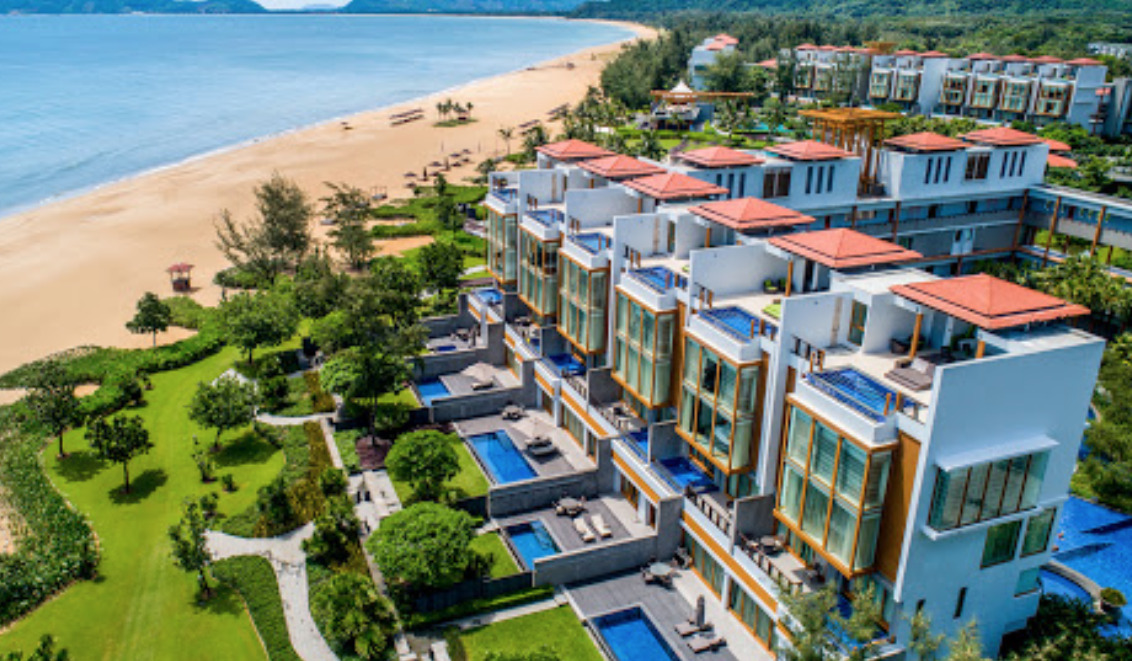 Energetic travelers will find themselves at home at Angsana Lang Co. The resort, which commands an unrivaled beach frontage, is a haven for exhilarating past-times such as jet-ski safaris, paddle-boarding, kayak adventures and jungle hikes in the forests of the Truong Son mountains. After enjoying some of Angsana's must-do activities, you may find yourself wandering over to the award-winning onsite spa sanctuary and yoga pavilion where guests can enjoy a spa experience that will rejuvenate and refresh their mind and body and soul. Angsana Lang Co's stylish suites draw inspiration from the cultural richness and heritage of Vietnam, and come with private pools, full leisure facilities and al-fresco dining areas.
The Most Extravagant Dining Scenes
Aside from serving world-renowned, mouth-watering local cuisine, restaurants in Vietnam have long been serving delectable dining experiences with divine views. Whether you crave a secluded retreat, a glitzy skyscraper scene or watching the sun set over the sea, Vietnam's most beautifully situated restaurants will make it hard to resist dropping in for a bite or two.
Full Moon Town Restaurant Bar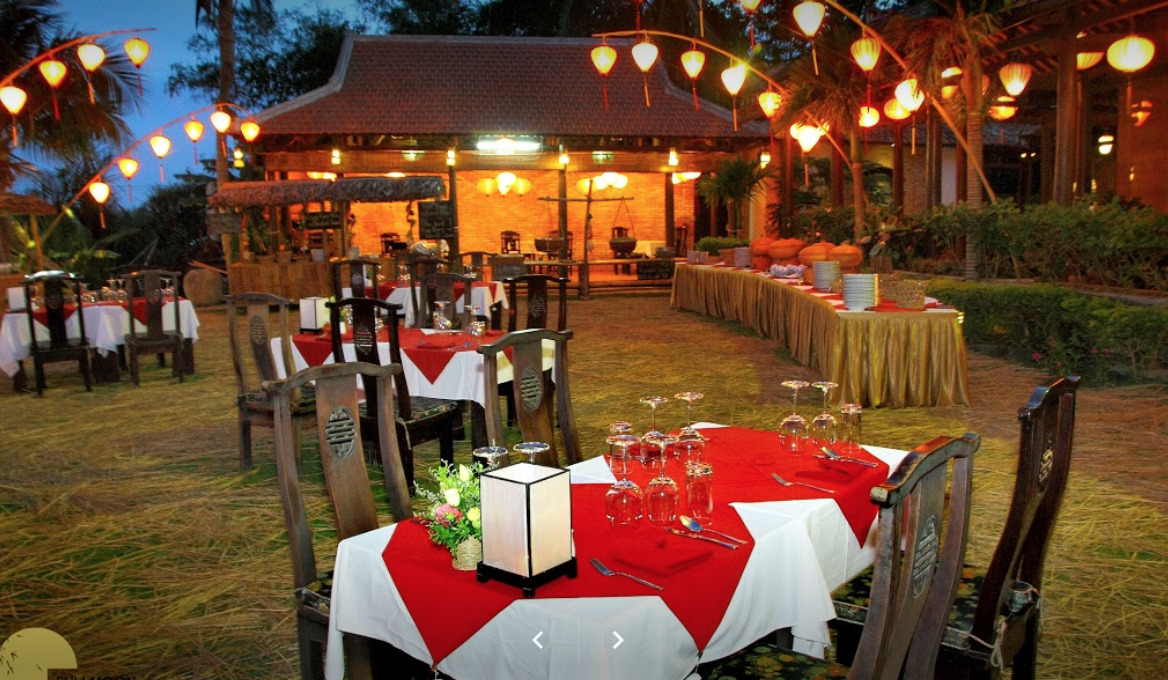 Located on the banks of the Thu Bon River, Full Moon Town Restaurant & Bar ensures views of the lush riverside with traditional Vietnamese wooden houses. This is a quiet retreat away from Hoi An's bustling Old Town that brings together traditional hospitality and modern dining in a romantic setting. While gazing out on spectacular and peaceful scenes, diners can enjoy menus of typical Hoi An specialties as well as other authentic Vietnamese dishes. Entertainment is often provided in the form of traditional music and dance performances, giving diners a wonderful experience of Vietnamese fine dining.
Six Senses Ninh Van Bay Restaurant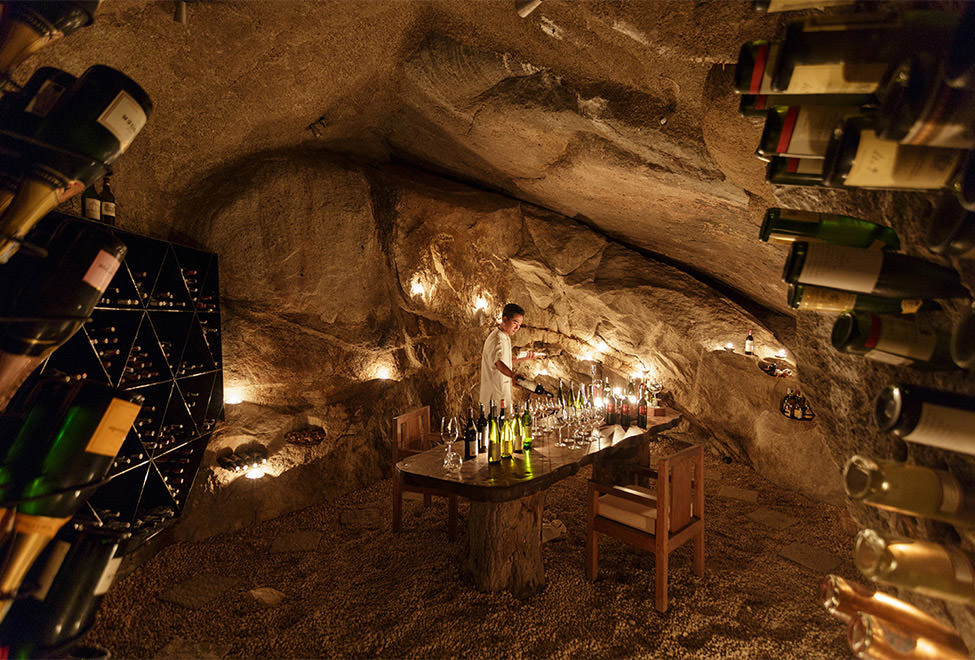 If you get the chance you would be mad not to indulge in a dinner date in The Cave. Part of the Six Senses Ninh Van Bay resort, The Cave is set in a hillside rock cavern offering a wonderful opportunity to gain a unique experience of Vietnamese fine dining. The table service is second to none and the rare location, luxurious ambiance and superb cuisine is the perfect setting for an intimate get together. What better way to end a luxury holiday?
La Parfum at La Residence Hotel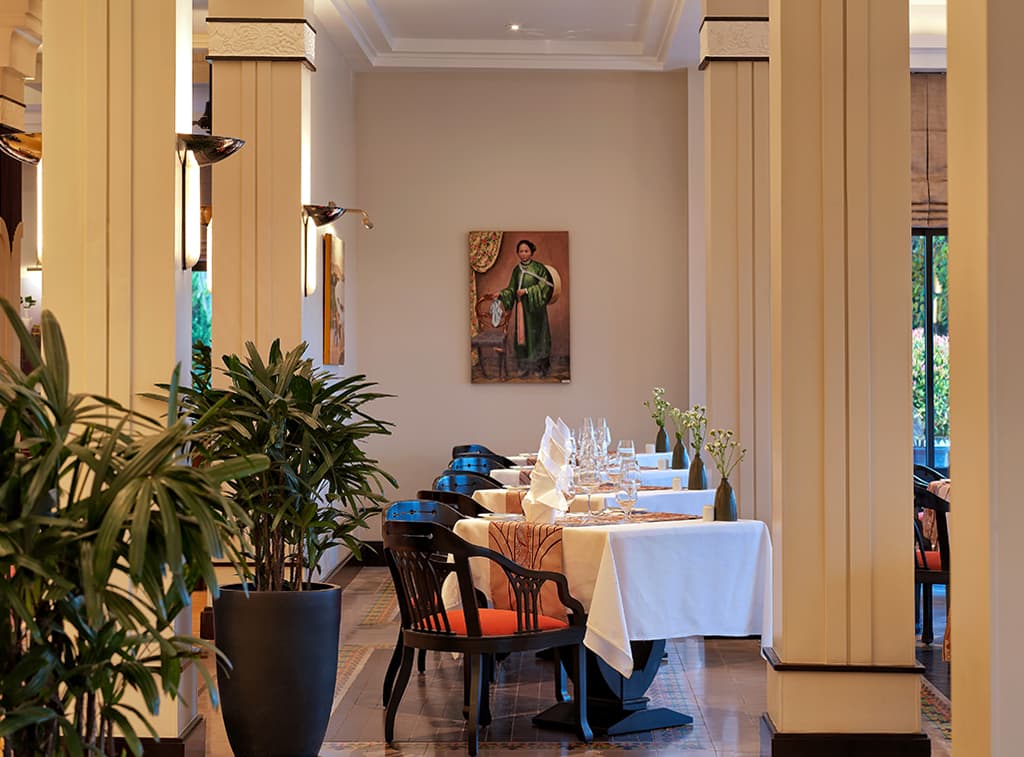 La Parfum at La Residence hotel is a grand dining option if you seek a restaurant with elegance and character. Luxury travelers may savor the superb cuisine by the river, with views of Hue's Imperial Citadel. Whether it's for a light lunch or decadent dinner, a visit to La Parfum is always a good idea. Offering an unconventional approach to haute cuisine the menu at La Parfum offers a culinary adventure into the most celebrated flavors of both East and West. This truly is a gastronomical experience not to be missed when in Hue.
Sandals at Mia Resort Mui Ne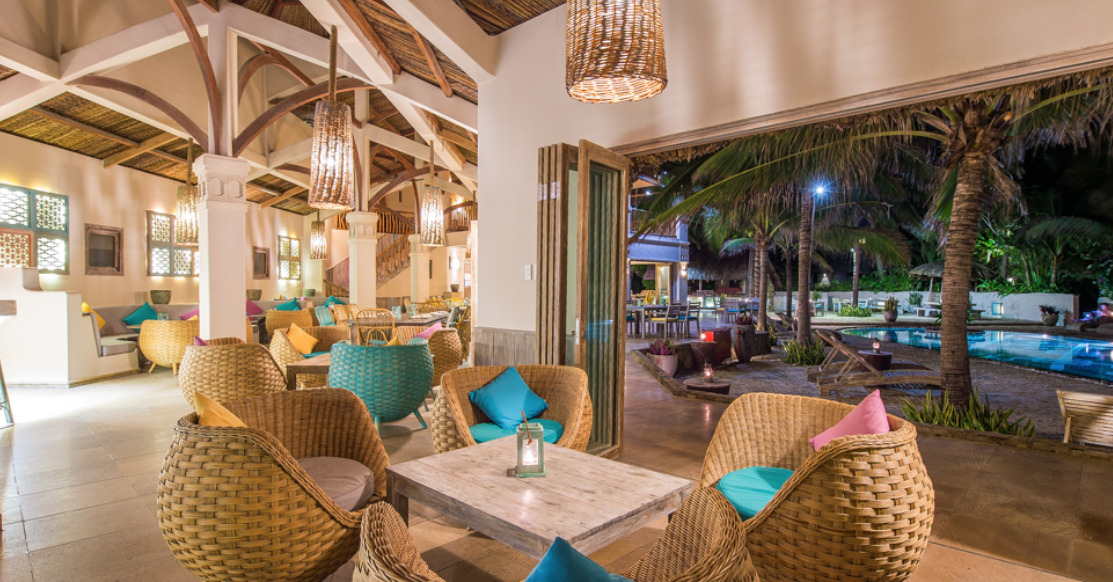 Simply put, both food and service at Sandals Restaurant is outstanding. Located in Mia Resort, a delightful boutique resort in the center of Mui Ne, Sandals prides itself on being one of the finest and most treasured restaurants in the area. The menu features both authentic Asian specialties and Western favorites made from the highest quality produce and served by servers of the highest standard. Situated right on the beach, the atmosphere at Sandals is exquisite and will have you yearning to return for years to come.
Sorae Restaurant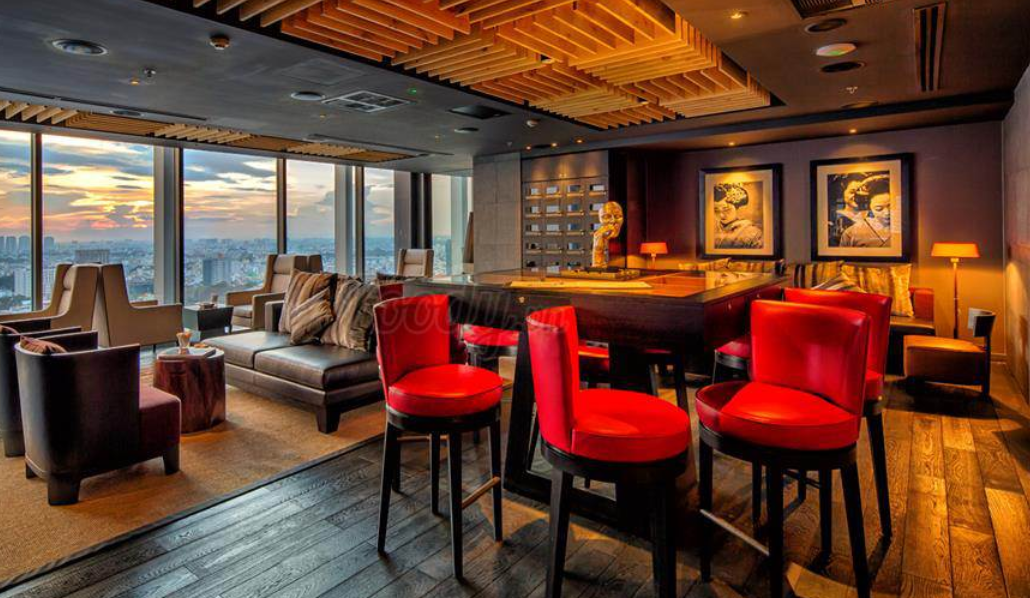 Sorae Restaurant & Lounge is a high-end Japanese restaurant that truly delivers in the areas of fabulous food, top service and city views to die for. Sat on the 24th – 25th floor of the AB Tower in Saigon, at Sorae you can enjoy excellent Japanese Cuisine "in the clouds". The restaurant is renowned for its sashimi and Japanese style tapas as well as an impressive Sake selection. Perfect for all occasions, Sorae is extremely popular with both locals and travelers so make a reservation to avoid disappointment!
And The Experience That Can Be Found Nowhere Else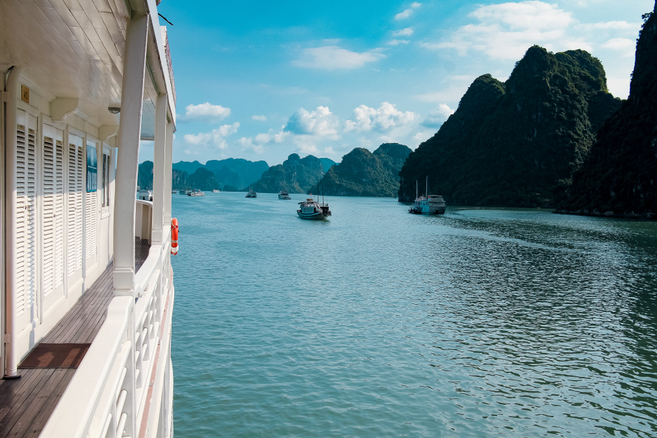 When it comes to the most lavish travel experiences many travelers cast their thoughts to mega yachts, private beaches and sky-high expenses - but some of Vietnam's most unmissable experiences are priceless and come straight from Mother Nature herself. The value of exclusive access to some of the world's most exotic and prized natural gems cannot be overstated. You simply have not lived until you have seen Vietnam's natural beauty, and why not take it up a notch? Live the greatest experiences Vietnam has to offer by the most privileged means to experience true luxury travel.
6 Star Cruise
A cruising journey lets you experience the best parts of Vietnam on the water. This experience is particularly suitable for intrepid travelers and adventurous families. Vietnam has a selection of luxurious cruise ships offering a five-star standard of comfort and service. You can choose from an expedition to Halong Bay UNESCO World Heritage Site on an all-balcony exclusively chartered vessel or a gentle journey on an overnight cruise down a quiet canal in the Mekong Delta.
Sailing through off-the-beaten-track itinerary around Halong Bay, Paradise Cruise is an exclusive and rather intimate cruise ship fleet that exemplifies the mystery and beauty of Halong Bay – stunning, yet with much still to explore. They are Paradise Luxury, Paradise Elegance and President Cruises that bring about not only fine food and fawning service but also visits to exotic locations and in-depth & unique experiences from a destination.
Helicopter Tour
Exclusivity is a key requirement of ultra-luxe travel. So if you've got the cash to splash, a private jet is the most extravagant way to travel. Prestigious travelers to Phu Quoc Island can charter a helicopter from Ho Chi Minh City and seize an opportunity to say "Wow", at amazing sceneries of this heavenly island from the birds-eye view of helicopter windows.
There are four options for this helicopter charter service including Mi-17-1 or Mi-172 of Russia (22 seats), Super Puma L1 of France (19 seats), EC-155B1 of France (11 seats) and EC-155 of France (19 seats). This journey will last 1 hours 45 minutes and the charter price may start at USD $20.000 per one way.
Golf holiday
Vietnam is now becoming Asia's preferred golfing destination, combining five-star accommodation with access to innumerable blue ribbon golf courses. Among those, built among the unique terrain in the sand hills of Ho Tram, the 18-hole Bluffs Ho Tram Golf Course is the Greg Norman's second golf project in Vietnam which won the noble title of "2015 The World's Best New Golf Course" award at the prestigious annual 2nd World Golf Awards Ceremony that took place at Conrad Algarve Portugal.
This spectacular golf course was designed to capture the true essence of links-style golf. The course lies on a coastal plateau and holes are routed around seaside sand dunes. There is also a large restaurant with great views over the golf course, the ocean and luxurious locker rooms.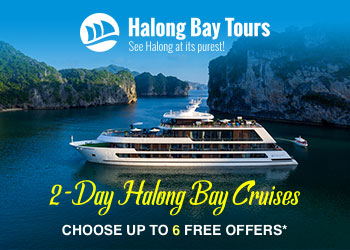 Recent Posts

Why Travel With Us
Local Expertise
As locals, we know the very best of what Indochina has to offer and what may change over the years. We are confident to tailor your trip with the best of the destinations (history, culture, people, landscape and gastronomy).
Authentic & Unique
The experience you have when traveling can be remarkably different based on how your trip was planned, the people you meet on the way and the food you try. We can show you an authentic and unique Indochina by every single element of the vacation, one that will make a lifelong memory.
Private & Flexibility
Every traveler has her/his own expectation and travel style. We will craft a tour that both matches your preference, with maximum privacy flexibility, and at the same time shows you Indochina at its purest.
Best Value & Best Price
Your satisfaction is our goal, which in turn makes our motivation and inspiration to carry on our work. Book our tour and you will receive the best value trip for your budget.