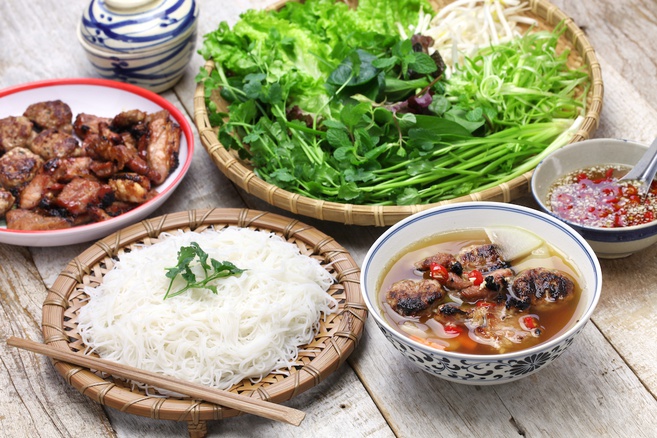 Vietnam
A Comprehensive Guide To Vietnamese Cuisine
It's not an exaggeration to say that Vietnam is THE place to go to get food shock where local culinary specialties abound. Diverse landscapes, vast rice paddies, mountains and coast contribute to culinary variety while the national cuisine is shaped by both long-standing tradition and heavy foreign influences.
Features of Vietnamese cuisine
Though Vietnamese cuisine varies from north to south, the mainstream culinary tradition still shares some fundamental features. Indeed, local cooks always try to balance typical flavors of saltiness, sweetness, sourness and herbs, chilly & pepper in each dish together with the practice of local customs.
Using chopsticks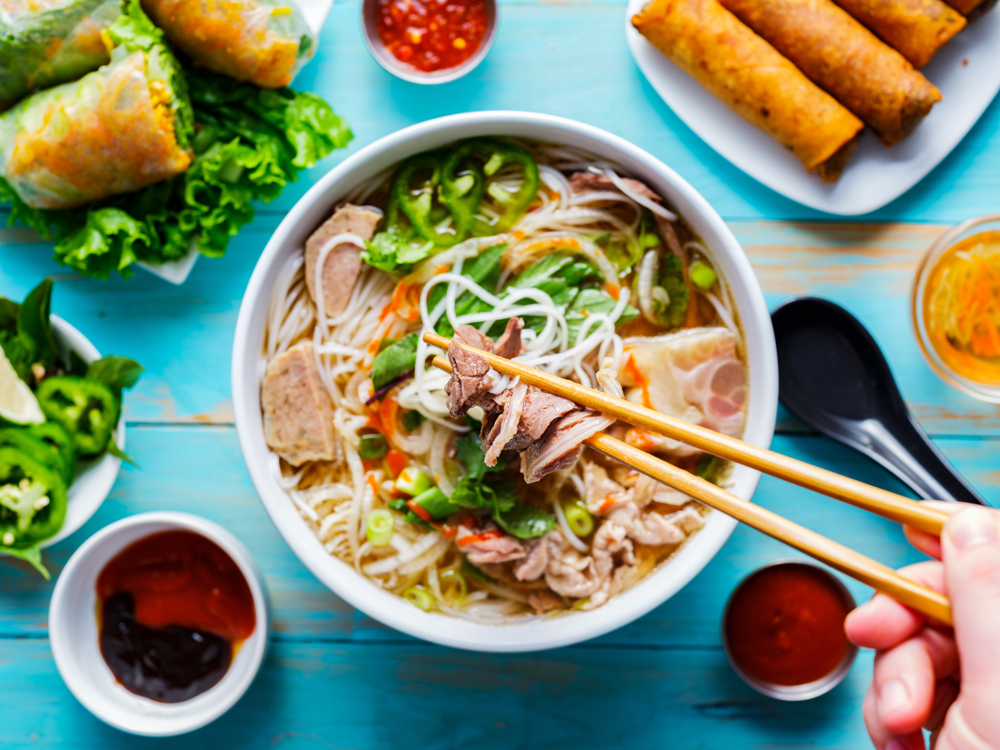 While fork, spoon and knife are irreplaceable eating utensils at dining table of most of countries over the world, using chopsticks to eat from shared plate of dishes is a long tradition of Vietnam and some other Asian countries such as Japan, China and Korea. Although it's difficult, foreigners had better know and learn this etiquette to show respect to local cuisine tradition.
Rice and noodles
In this agriculture-based country, locals from generations to generations have been familiar with rice-based meals, accompanied by a variety of vegetable dishes, stir-fried meat or fish since their childhood. Alternatively, cooked to a soupy state with chicken, fish or pork rib, rice becomes "chao" (porridge). Other variations made from rice include noodles, vermicelli, sticky rice and translucent papers that are the base for many other specialties.
Fish sauce
From street stalls to upscale dining, there is one thing you'll always be guaranteed to find: fish sauce or "nuoc mam". Fish sauce is more than just a condiment; like rice, it is already a staple of almost every Vietnamese meal. In fact, Vietnamese cooks use quite a lot fish sauce and a small bowl of fish sauce is always put in the center of dining table so everyone can reach it.
Low Fat
Vietnamese cuisine is characterized to be low in fat when abundant dishes are made of vegetables which range from the mundane (tomatoes, potatoes, cabbage, cauliflower and so on) to the exotic (banana blossoms and 'thien ly' flowers). Besides, the combination of so many herbs provides complex flavors and healthiness.
Family style
Unlike Western style, Vietnamese way of eating is sharing or family style. Food is placed in the center of the table and consumed jointly by all members by using their chopsticks. This practice brings a sense of coziness and bonds family member relationship.
Regional variation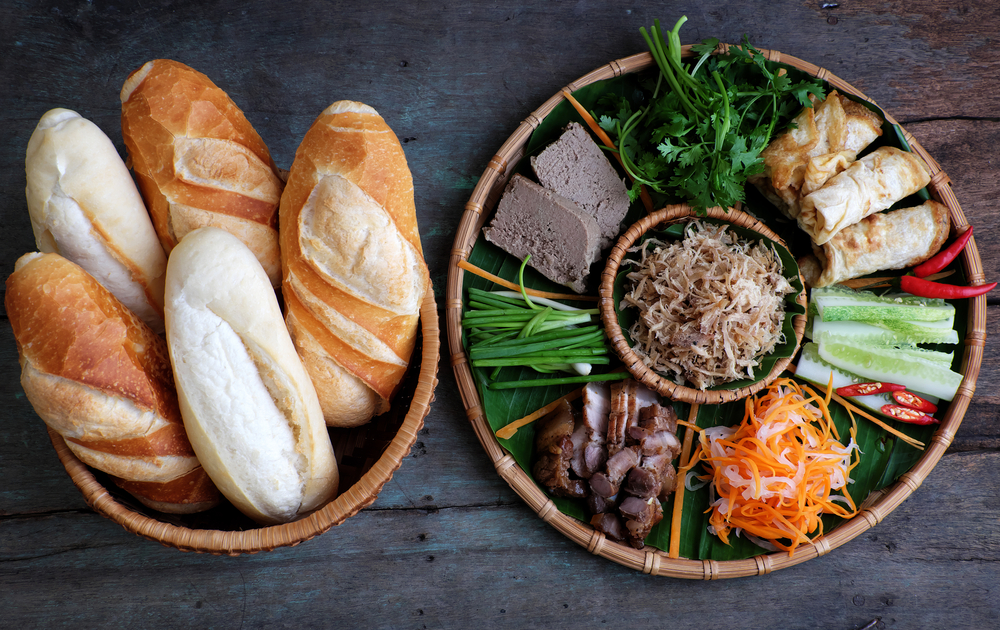 Vietnam is intensively regional. And from north to south, there are three distinctive culinary styles that reflect differences in geography and climate of each region.
Northern cuisine
In general, northern Vietnamese cuisine features a propensity of combining many flavoring ingredients. Herbs and spices are less often used resulting in lighter and more balanced dishes compared to those in other regions. Hanoi is particularly known for the birthplace of many local northern delicacies apart from legendary pho like Cha Ca La Vong (Hanoi turmeric fish with dill), Pho Cuon (rolled rice pancake), Bun Cha (Vietnamese grilled pork with vermicelli) and Ca Phe Trung (Vietnamese egg coffee), to name a few.
Central cuisine
Unlike mild, subtle flavors of northern dishes, central Vietnamese cuisine is commonly characterized as spicy and extreme which is attributable to the abundance of spices grown in its mountainous terrain. Chilly, peppers and shrimp sauces are frequently used ingredients. Additionally, vast shorelines make seafood a natural staple for central habitants. The region's cuisine is also notable for its sophisticated meals, reflecting the influence of ancient Vietnamese royal cuisine since Hue was once the capital of the last dynasty of Vietnam. It's pretty sure that you can hardly resist on a number of central Vietnamese signature dishes such as Bun Bo Hue (spicy beef & pork noodle soup), Banh Xeo (Vietnamese sizzling crepe), Cao Lau (Hoi An Noodle), Mi Quang (Vietnamese noodle Quang style with pork & shrimp).
Southern cuisine
Vietnamese dishes are getting sweeter and sweeter towards the south due to the widespread use of coconut milk and sugar preference. Local delicacies in the south are often vibrant, flavorful and seasonal thanks to the warm weather and fertile soil making the land ideal for a wide variety of fruits, vegetables and lives stocks. This part of country is also where the influences of Chinese, Thai and Cambodian cooking are most apparent. There are many specialties in general you can try from Com Tam (Vietnamese broken rice), Hu Tieu Nam Vang (Vietnamese pork and seafood noodle soup), Banh Mi (Vietnamese sandwich).
Must-try dishes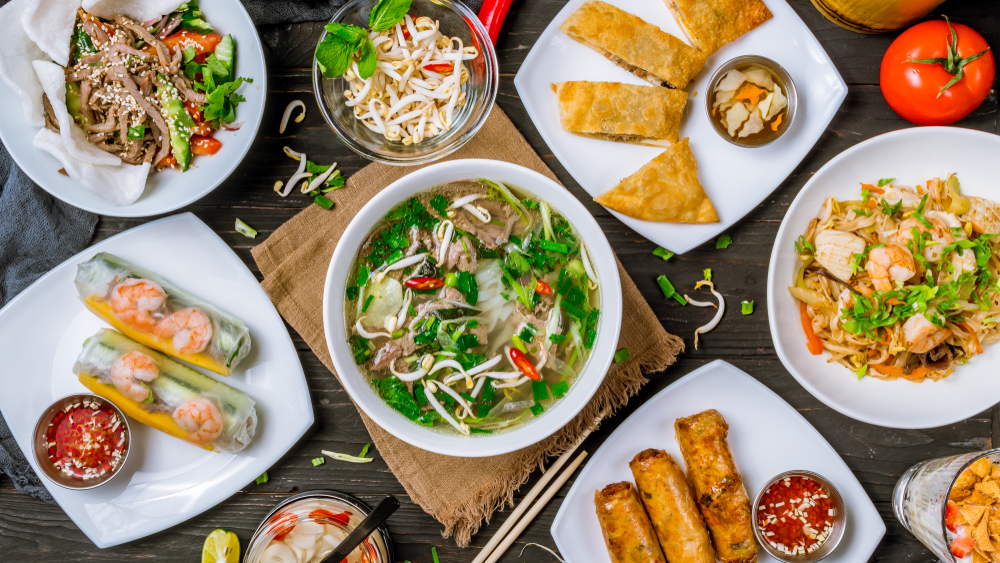 The simplicity yet freshness and subtle variations of Vietnamese cuisine are key features that keep big extravagant spenders pulling up a plastic stool for more. Furthermore, dishes are often defined by region with certain foods being traceable back to a very specific region. While some can be enjoyed in a top-end restaurant, most traditional Vietnamese dishes are best to be savored just as well on the side of the road.
Pho Bo
Cheap, tasty and available around the clock, pho has long been known for an unrivaled Vietnamese traditional dish over the world. A typical bowl of pho often comprises a spiced broth (which is often made from pork ribs or beef bones), fresh flat noodles (although the size can vary by places), chicken or beef, and a dash of green onions and other local herbs. Depending on where you are, you can eat different versions of authentic pho. To illustrate, although the basic ingredients are retained, pho in the south is a little bit sweeter and bolder to some extent.
Bun Cha
There are a plethora of Vietnamese dishes, but if you want something traditional, cheap and fast – it's definitely bun cha. Vermicelli noodle with grilled pork in Hanoi style dominates street-side restaurants at lunchtime in the capital. Either in the north or the south, the taste of bun cha is similar that combines rice noodles with grilled pork and served with a sweet chili dipping sauce and bountiful basket of fresh Vietnamese herbs. Across the region, another dish called Bun Thit Nuong is slightly different that if you don't look closely, you wouldn't even notice.
Banh Mi
Banh mi - Vietnamese baguette wins reputation for the best sandwich in the world. A typical banh mi is stuffed with various marinated meats, cucumbers, herbs and pickled veggies. Yet depend on exactly where you are, banh mi has a few variations. To illustrate, in the north, Vietnamese banh mi tends to stick to basic elements of carbohydrate, fat and protein while heading south, banh mi is more colorful and filled with more condiments such as pickles, eggs. Chili paste/ sauce is on the side and you can request to add more or remove the cilantro per your liking too.
Com Tam
Come to southern Vietnam, you can rely on com tam - Vietnamese broken rice as a staple. Local broken rice eateries are practically ubiquitous in every street of Saigon. A plate of com tam usually serves grilled marinated pork ribs, pork skin over broken rice and tops with several customary ingredients such as finely sliced cucumber, tomato and pickled vegetable along with fried egg or grilled prawns. It would normally be served with a small bowl of fish sauce on the side as well.
Banh Xeo
Giant savory pancake or literally translated sizzling cake bulging with pork, shrimp and bean sprouts plus the garnish of fresh herbs creates a typical, authentic flavor that can be found nowhere else. Though banh xeo has several variations across the region, to enjoy it like a local, one need to cut a giant pancake into manageable slices, roll it up in translucent rice paper or lettuce leaves and dip it special sauce.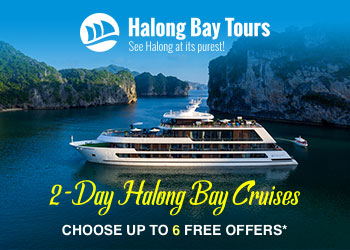 Recent Posts

Why Travel With Us
Local Expertise
As locals, we know the very best of what Indochina has to offer and what may change over the years. We are confident to tailor your trip with the best of the destinations (history, culture, people, landscape and gastronomy).
Authentic & Unique
The experience you have when traveling can be remarkably different based on how your trip was planned, the people you meet on the way and the food you try. We can show you an authentic and unique Indochina by every single element of the vacation, one that will make a lifelong memory.
Private & Flexibility
Every traveler has her/his own expectation and travel style. We will craft a tour that both matches your preference, with maximum privacy flexibility, and at the same time shows you Indochina at its purest.
Best Value & Best Price
Your satisfaction is our goal, which in turn makes our motivation and inspiration to carry on our work. Book our tour and you will receive the best value trip for your budget.